Performing Shores / The Shores of Performance

Online
St. Francis Xavier University and the University of the Fraser Valley
June 10-12, 2023
In person
Dalhousie University
June 15-17, 2023
Keynote Performance and Talkback, June 10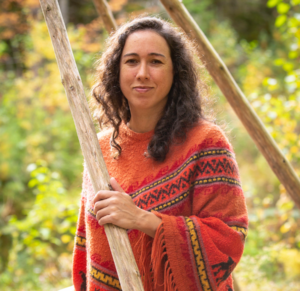 shalan joudry
shalan joudry is a Mi'kmaw poet, storyteller, podcast producer, playwright, actor and singer. She is also an ecologist and cultural interpreter. www.shalanjoudry.com
Conference Outline
The shore has been a key site of performance from time immemorial. Mi'kmaw Elder Stephen Augustine describes how, in Mi'kma'ki–the unceded territory of the Mi'kmaq people, where much of this conference will take place—spring gatherings in which the community exchanged songs and stories historically occurred "at the mouth of the river, on the coastline." Many of Asia's and Europe's most celebrated theatres took root on riverbanks. In her 2019 book The Black Shoals: Offshore Formations of Black and Native Studies, Tiffany Lethabo King underlines the decolonizing potential of thinking with shoals and shores, advancing a theoretical approach that "disrupts colonial geographies" and "forecloses settlement and permanent landing on its always shifting and dissolving terrains." In an age when many shorelines are threatened by climate change, acknowledging their importance to performance cultures seems especially vital. Hence, CATR's 2023 conference, "Performing Shores / The Shores of Performance," invites theatre scholars and artist to gather on literal and theoretical shorelines in order to discuss and re-imagine the future shores of theatre, drama, dance, and performance studies in Turtle Island and beyond.
Land Acknowledgement
We would like to acknowledge that the conference takes place in Mi'kma'ki, the ancestral and unceded territory of the Mi'kmaq People. This territory is covered by the "Treaties of Peace and Friendship," which Mi'kmaq and Wolastoqiyik (Maliseet) Peoples first signed with the British Crown in 1725. The treaties did not deal with surrender of lands and resources but in fact recognized Mi'kmaq and Wolastoqiyik (Maliseet) title and established the rules for what was to be an ongoing relationship between nations.